EEG Monitoring
Easy, Anytime, Anywhere.
Helping blaze a path toward better health.
In-Home Ambulatory Video-EEG

Remote EEG monitoring is advantageous for patients in several ways. It eliminates the need to wait until an EMU bed is available, travel to a hospital, and pay hospital bills. In-home ambulatory EEG can be an integral part of diagnosis, classification, and management of seizure disorders and identification of non-seizure-related causes of patient-reported events (psychogenic nonepileptic seizures, cardiac disorders, sleep disorders). The probability of capturing an event is much higher in the patient's home setting and avoid the "hospital setting anticonvulsant" effect.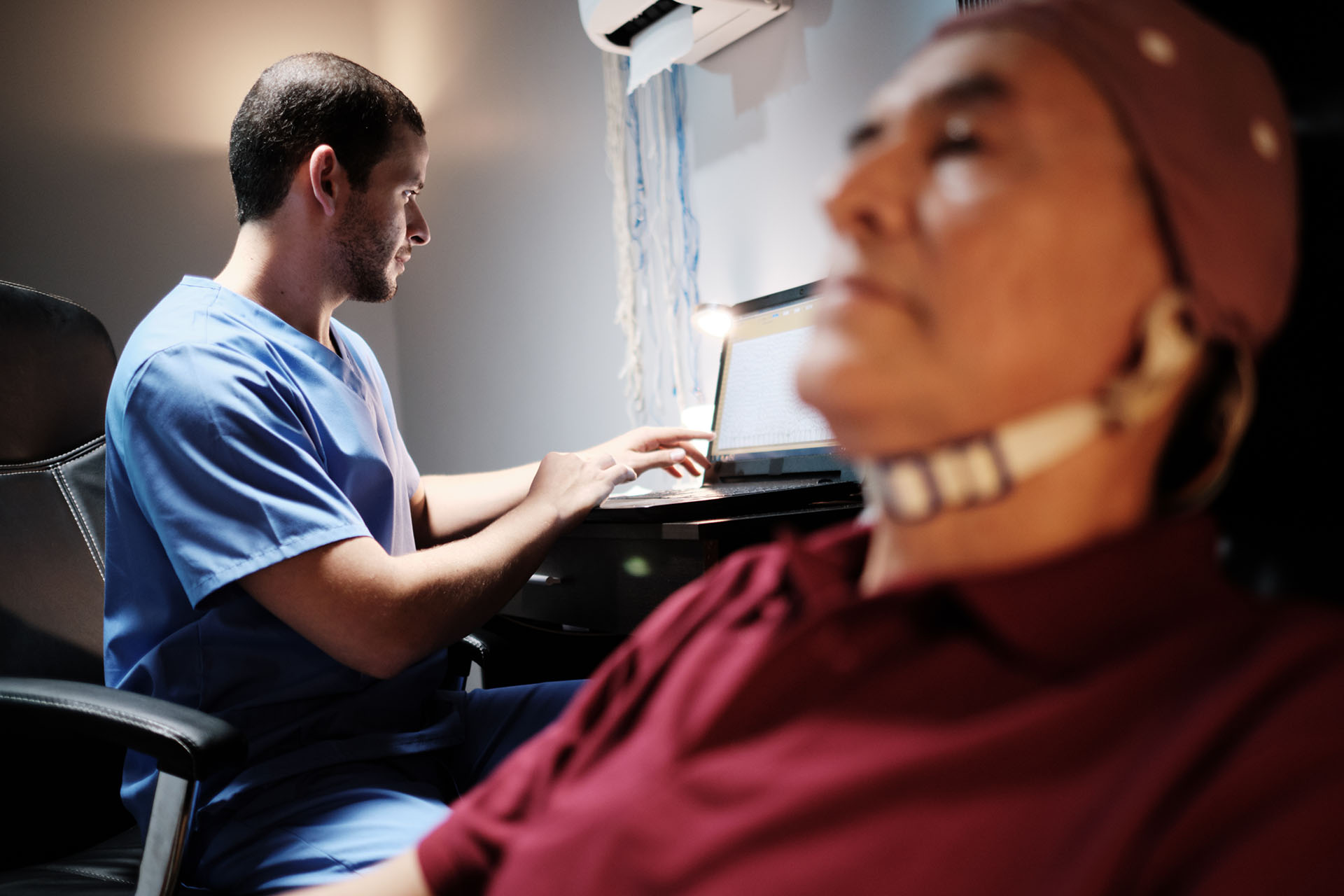 Benefits of extended in-home ambulatory video-EEG recordings include:


More cost-effective compared to a hospital stay in an Epilepsy Monitoring Unit (EMU).
Faster service access without the prolonged wait for an EMU bed.
Greater chance of detecting epileptic events in a home setting, bypassing the "hospital setting anticonvulsant" effect.
Patients and families avoid the hassle and cost of traveling to the hospital for tests.
Patients generally find in-home EEG procedures more comfortable than in-hospital video-EEG monitoring.
Real-time remote observation of patient studies guarantees high-quality recordings with optimal clinical results.
Video EEG

NeuroTrace video EEG (VEEG) at-home testing delivers accurate information with quick turnaround, with maximum convenience for patients. At NeuroTrace, we saw an opportunity to redefine and improve EEG testing. One in 25 people will develop epilepsy or recurrent seizures during his or her lifetime. At NeuroTrace, we knew that with accurate data, quick turnaround, and convenient in-home monitoring, many lives could be improved. Ambulatory video EEG testing at home monitors patients in their everyday environment, retaining events that likely contribute to seizures and other neurological signs. That means more accurate data to support diagnoses, empowering physicians to generate more efficacious treatment plans.

We lead the field in delivering exceptional value for patients. The quality and accuracy of an in-home video EEG (VEEG) test rivals an inpatient EMU evaluation, without a costly hospital stay.